Established in 1960 with an intake of 60 and now the intake is 120.
Department has well qualified faculty & well equipped laboratories as per the requirement of AICTE and MSBTE
The faculty is engaged in improving the quality of education as well as enhancing the skills in the students to suit the requirements of present construction industry. The teaching & learning is carried out with modern teaching aids, and technical visits. Also various lectures are arranged frequently by experts from industry.
Overall development of students is made sure through encouraging students to participate in various State Level Competitions / Seminars & Sports activities
Department is engaged in Third Party Audit (TPA) of Civil Works carried out for various Municipal councils/Corporations
Department also extends facility of Testing of Construction Materials required for various civil works to many Government and private organizations
Generates ample revenue through TPA
Inplant training in the last semester of 40 credits for enhancing the employability and entrepreneurship skills of students
 After completion of this diploma program, students shall have the competencies in supervisory skills, drafting skills, estimation and costing, tendering, surveying and many more and they may be recruited as site Engineers, Junior Engineers, Trainee Engineers in construction industry specially and in other various organizations such as Municipal Corporation, MAHAGENCO, Irrigation department, PWD, NTPC, L&T, Railways, Maharashtra Jeevan Pradhikaran, MCGM, Mhada, Metro etc.
 Govt. of Maharashtra provides and gives preference to the diploma holders of Civil Engineering an opportunity to undertake a contract up to an amount of Rs. 15 Lacs setting aside Security Deposit and Earnest money. The following are the salient features of the program:
Salient Features of the Program:
In-plant training in the last semester of 40 credits for enhancing the employability and entrepreneurship skills of students
Improved Teaching-learning through multimedia.
Good academic result
Regular Parents Meeting
Student Participation in Paper Presentation, Project & Quiz competition, Sports, IEDSSA
Staff involvement in MSBTE curriculum revision, question paper setting and moderation and lab manual development
Regular Expert lectures & industrial visits
MOOC courses (Spoken tutorial courses) to improve the soft skills and technical ability and also to inculcate the habit of self learning and lifelong learning in students
Autonomous program to include the latest and as per the need of Industry and program receives equivalence from MSBTE.
Vision
To provide quality education in Civil Engineering and prepare national proactive technician in contribution towards social uplifting and national building
Mission
To prepare disciplined, compassionate and virtuous technician to make significant contribution to the economic development of the state and the country on a whole.
Programme Outcomes (POs)
PO1: Basic and Discipline specific knowledge: Apply knowledge of basicmathematics, science and engineering fundamentals and engineering specialization to solve the Engineering problems.
PO2: Problem analysis: Identify and analyse well-defined Engineeringproblems using codified standard methods.
PO3: Design/ development of solutions: Design solutions for well-defined technical problemsand assist with the design of systems components or processes to meet specified needs.
PO4: Engineering Tools, Experimentation and Testing: Apply modern engineering tools and appropriate technique to conduct standard tests and measurements.
PO5:Engineering practices for society, sustainability and environment: Apply appropriate technology in context of society, sustainability, environment and ethical practices.
PO6:Project Management: Use engineering management principles individually, as a team member or a leader to manage projects and effectively communicate about well-defined engineering activities.
PO7:Life-long learning: Ability to analyze individual needs and engage in updating in the context of technological changes
Programme Specific Outcomes (PSOs)
PSO 1. To understand, read, draw & interpret drawings of different Civil Engineering Systems.
PSO 2. To be able to supervise different Civil Engg. sites.
PSO 3. To conduct different surveying activities in Civil Engineering Practices.
PSO 4. To evaluate scope of civil engineering works
Programme Educational Objectives (PEOs)
PEO1. Diploma graduates will establish themselves as skilled technicians and quality supervisor in solving the problems for addressing the needs of the society.
PEO2 Diploma graduates will be well equipped with latest technologies prevailing in the construction industries and making themselves able to stand confidently and industriously in the rapid changing scenario in India and abroad.
PEO3. Diploma graduates will pursue lifelong learning and will establish themselves as the leaders, both in their chosen profession and in other activities and act professionally and ethically while making decisions fulfilling the social, cultural and sustainability requirements.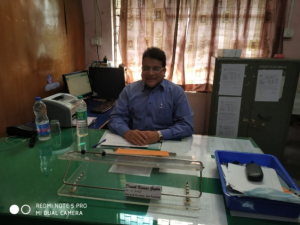 I welcome you all to this exciting branch of Civil Engineering, one of the core and most fundamental engineering branches. Civil engineering department is a part of this institute since its inception and has grown significantly over the past six decades in terms of faculty, laboratories, equipments and infrastructure. We are proud to be having and actively involved in consultancy projects/technical audits/third party audits of various government organizations and municipal corporations and provide/produce quality technical reports whereby we generate noteworthy revenue for Government of Maharashtra and get opportunity to have hands on experience in the field resulting into sharpening our skills that make us and our students successful in professional life. I assure you that we as a family shall provide you the knowledge, skills and attitude to develop you into a finest technician/engineer and a wonderful human-being. We all faculty members with our experience, qualifications and expertise are dedicated and passionate to make you the best and enviable in the field of Civil Engineering. With our fun loving and stress free attitude, I hope to make your stay in this institute as the most enjoyable, full of excitement and a great learning experience. All the best!
| Sr. No. | Name | Designation | Designation on PBOS |
| --- | --- | --- | --- |
| 1. | Mr. Dipak D. Kulkarni | Structural consultant | Member |
| 2. | Mr. Neelamkumar Sawant | State Head, Technical Services, JSW | Member |
| 3. | Dr. S.T. Dhotre | H.C.E.D. G.P. Thane | Member |
| 4. | Dr. Anil Khandekar | Asstt. Secretary, RBTE Mumbai | MSBTE representative |
Teaching Faculty
Non Teaching Faculty
| Sr. No. | Name | Qualification | Post | Photo |
| --- | --- | --- | --- | --- |
| 1. | Shri. S. D. Sankpal | B.Com | Lab Assistant | |
| 2. | Shri. P. T. Shelar | SSC | Lab Assistant | |
| 3. | Shri. B. K. Joshi | B.Sc | Asst. Chemist | |
| 4. | Shri V. S. Gabhale | IX | Hamal | |
| 5. | Shri R. V. Shinde | IX | Hamal/Lab attendant | |
| Sr. No. | Name of the Laboratory | Location/ Room No | Total Investment | Supporting Staff | Courses for which Practicals are conducted | Extension No |
| --- | --- | --- | --- | --- | --- | --- |
| 1. | Computer Lab | 213 | Rs. 3135578/- | Shri. S. D. Sankpal | Autocad, Computer Fundamental | - |
| 2. | Survey Lab | 212 | Rs. 3049788/- | Shri B. K. Joshi | Surveying and Advance Surveying | - |
| 3. | PHE Lab | 212 | Rs. 86762/- | Shri B. K. Joshi | Water supply and Sanitary Engineering | - |
| 4. | Engineering Mechanics Lab | 008 | Rs. 156000/- | Shri P. T. Shelar | Engineering Mechanics | - |
| 5. | Strength of Materials Lab | 004 | Rs. 1750000/- | Shri P. T. Shelar | Strength of Materials, Mechanics of Structure | - |
| 6. | Soil Mechanics | 003 | Rs. 505000/- | Shri P. T. Shelar | Geotechnical Engineering | - |
| 7. | Concrete Tech. Lab | 002 | Rs. 1040000/- | Shri P. T. Shelar | Concrete Technology | |